What is FASER?
FASER is an online coursework submission platform. You upload your coursework here and it is timestamped and checked for plagiarism. It shows upcoming deadlines and recent feedback. You can view previously uploaded files and submit drafts.
How can I find FASER?
If you visit MyEssex you can find FASER under the Education tab in the list of study support resources. You can also find it by searching for 'FASER' in the Student Directory.
What can I do on FASER?
When you first open up FASER, across the top of the screen, there is a list of different sections: Assignments, Feedback and Marks, Submissions and Help and Support. On the left hand side of your screen, you are able to see your upcoming deadlines and on the right hand side, you can view feedback from your recently submitted coursework. Below your FASER deadlines, there is a section of handy tips and next to that, there is a list of IT news and alerts.
So what do all these sections do? The most important ones are undoubtedly Assignments and Feedback and Marks. When you click on Assignments, you are able to view your current modules and their all important deadlines. It is important that you know when these are so perhaps take some time to set up reminders in your phone or make a note in your diary so you don't forget.
Under Feedback and Marks, you are able to view your marks to date, as well as all the feedback you have been given. Referring back to where your tutor has identified areas for improvement is a really useful starting point when beginning a new piece of work, so make sure you are familiar with this area of website.
How do I upload my coursework?
Click on the correct assignment on the right-hand side.
Select files, browse and then select your coursework file.
Agree to the authorship statement
Submit the file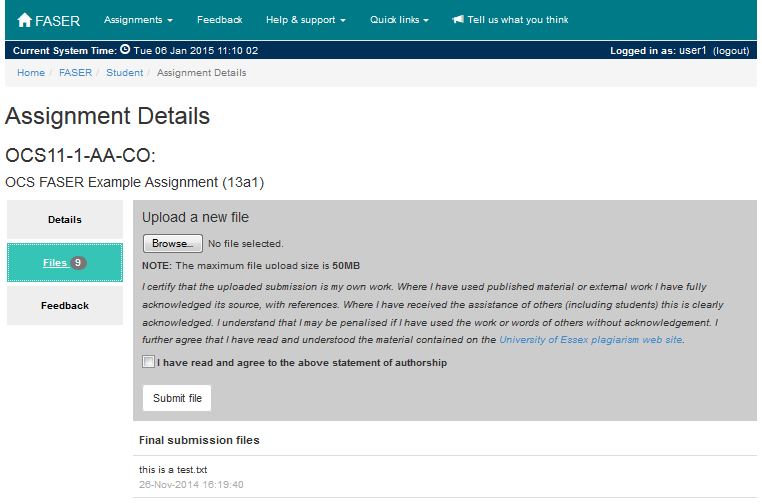 When should I upload my coursework?
We recommend uploading your coursework 24 hours before the deadline because FASER can take a while to upload files, so if lots of other students are using it at the same time, this can sometimes cause the website to crash. Please upload your files early to reduce stress and problems!