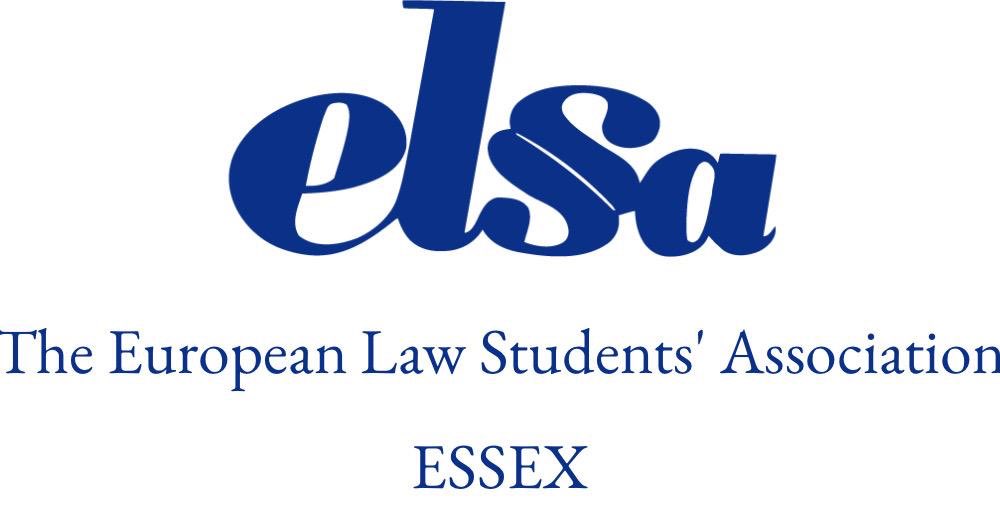 What is the ELSA Society?
The ELSA Essex society is a local group of The European Law Students' Association, which is the largest organisation for law students and young lawyers in the world! It has more than 54,000 members in 375 universities, giving its members the opportunity to meet people from all over the world. This means that the society is not just for students from Europe, it's for everyone! Even if you're not a Law student!
What kind of events does ELSA run?
Since the start of term, ELSA has been very active. They visited the Fresher's Fair, held an introductory session for students, visited the XXI National Committee Meeting in Leeds, and held an information session with BARBI international (the largest bar review and legal education in the world!) alongside the Canadian Law Society. Recently, they held their Westlaw Certificate session to learn about Westlaw, help students improve their legal research skills and make their CV stand out!
At the end of Autumn Term, they introduced a Career Talk Series to allow students to educate themselves about different areas of Law, so that they can make more informed decisions when deciding what to do after University. These are presentations even by lecturers or external guests, followed by a Q and A session. The first session was last term regarding a career in Human Rights with Abbas Faiz and they're next session will be held this term on 'A Career in Commercial Law'.
In addition to these informative sessions, ELSA also arranges fun sessions for students to mingle such as their 'Jingle and Mingle' Christmas Party and their Halloween Icebreaker session.
What exciting events does ELSA have planned for next term?
ELSA will continue running their career talk series to help all students who are interested in a career in Law. They will be entering into the ELSA moot court competitions, which are held internationally. They will be attending the National ELSA Committee Meeting, which is being held this year at the University of Birmingham in March, but can be held internationally.
At least 3 students from the society must attend and it is a great networking opportunity for those who go.
Members of the socitety can apply to become an ELSA delegate for the United Nations, if successful, it would provide Essex students with an opportunity to be involved in global decision making. They hope to arrange an ELSA Essex alumni event too, where our alumni talk about how ELSA has helped them during their career. In addition to these, ELSA hopes to plan more fun events to encourage students to socialise and meet like minded people.
What makes the ELSA Society different?
ELSA is committed to creating opportunities for exposure and interaction between Law students and young lawyers in different cultures and nations, and they make companies and Law students more conscious and responsive to economic, social and environmental development in their communities within Europe, and the impact of this development in Law. It also offers members delegate opportunities, which allows members to gain insight into the daily work of international organisations such as the United Nations, the Council of Europe and more!
Why should I become a member?
ELSA is a non-profit student led organisation. Being a member gives you access to all the events they run, like the ones mentioned above. Additionally, you are able to participate in international stimulated court proceedings in a certain area of Law, bridging the gap between theory and practice. Members are also given the opportunity to apply for legal internships in prestigious Law firms all around Europe, for example, Student Trainee Exchange Programme (STEP) internships and traineeships. Moreover, members are able to get involved in Winter and Summer Schools across the world and the course itself is often free! Members are given the opportunity to make global friends and connections, which looks fantastic on your CV.
How do I become a member?
To become an ELSA Essex member, you can buy your membership for £5, which covers the whole academic year.
Want to know more about ELSA?
You can email them essex@uk.elsa.org or follow them on their social media: Facebook, Instagram and Twitter! Additionally, you can contact Ece, the President, on ek18158@essex.ac.uk.